Subscribe for Deals & Offers
Get Rs 500 Cashback On Making Payment Through Snapdeal HDFC Bank Credit Card
snapdeal offer mega deal cashback offer for all HDFC Bank Credit Card user.the offer RS.500 cash cashback offer if you shoop anything from snapdeal with HDFC card..limited period offer.
Valid upto 31 Dec 2016
Snapdeal Online Store offers high quality products at lowest possible price. Every Online Buyer now days want Discounts, Cash Back and other deals thus every store is offering several deals but Snapdeal in a special store that offers various types of normal deals as well as combination deals with other companies like various banks, Freecharge and many more. Here are some of the amazing deals available at Snapdeal Online Store.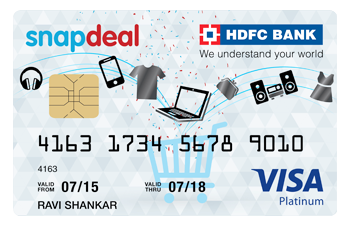 About Snapdeal Online Store and HDFC Bank :
Snapdeal was founded in 2010 and in this short time span it has became one of the most reliable online store among all online buyers because it offers high quality products at lowest possible price. Mr Kunal Bahl & Mr Rohit Bansal are the founders of Snapdeal and the company has it's headquarter in New Delhi, India. HDFC Bank was founded in 1994 and it has it's headquarter in Mumbai (Maharashtra, India). The bank has a large number of customers associated with it and it always offers various amazing deals for the customers.
Various Deals Available at Snapdeal Online Store :
Snapdeal offers various deals for the buyers. Some of the amazing deals available at the online store are such as Huge Discounts, Cash Backs, Bank Specific Offers, Combination Offers with Freecharge and Other Companies, Buy More Save More Offers, Buy One Get One Free Offers, Extended Warranty on Various Products, Exchange Offers and many more like these. If you are really willing to buy high quality products at lowest possible cost then you should visit Snapdeal Online Store to grab these amazing deals with ease.
Various Offers For HDFC Bank Customers at Snapdeal Online Store :
While paying for an order of Rs 5000 by "Snapdeal HDFC Credit Card" you will easily get Rs 500 Cash Back on you purchase value. If you pay for an order of Rs 3500 or more via a regular HDFC Bank Debit Card or Credit Card at Snapdeal then you will get 10% Cash Back on your shopping. Snapdeal is giving almost 50% off on Electronics Items and if the buyer pays via HDFC Bank Card then he/she will get an extra 10% discount on purchase value.
HDFC Bank Offer Top Spender To Get Rs. 5000 Cash Back Every 15 Minutes :
Snapdeal is also giving a more amazing deal for HDFC Bank Customers. In this offer the person who buys a lot via HDFC Bank Payment Option can get Rs 5000 Cash Back in just 15 Minutes. For availing this offer, user just have to buy more and more from the store and every time he/she just have to make payment via HDFC Bank.